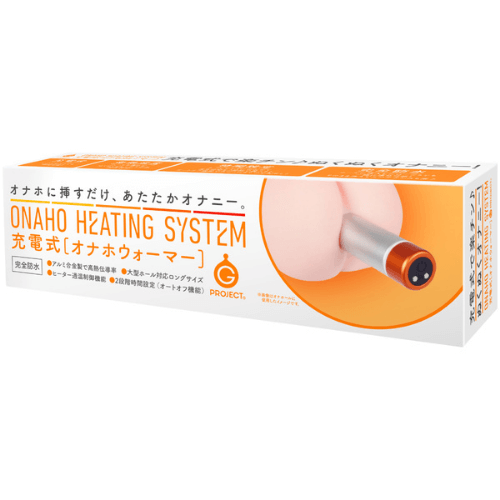 G-Project Onahole warmer (Waterproof)
Sale price
$25.90
Regular price
$35.90
Tax included.
✅ Cableless ✅ 100% waterproof ✅ Easy to wash ✅ Stick length 138mm ✅ Overheat control function ✅ Accessories: USB magnet type charging.
💰 Get $0.78 cashback
🚀 Fast and secure delivery with tracking number

No PayPal account needed!
Estimated Delivery:Oct 07 - Oct 11

Discreet shipment: FedEx International with tracking number
G-Project Onahole warmer (Waterproof)
Sale price
$25.90
Regular price
$35.90
Product description
Shipping
| | |
| --- | --- |
| BRAND | G-PROJECT |
| NUMBER OF ITEMS | 2 |
| INCLUDED ITEMS | USB magnetic charging cord |
Heat up by just plugging it into your masturbator.
Rechargeable & Cableless, easy to use.
The heating Temperature is 50 degrees Celsius/122° Fahrenheit, which will not damage the hole and allows warmth.
The warming timer can be set in two modes (15 minutes or 10 minutes, according to the hole size)
Auto-off function to eliminate the fear of leaving the device on!
Completely waterproof, so Lotion/Lubricant injected into the hole can be heated together.
Accessories: USB magnetic charging cord.
Charging time: Approx. 180 minutes
Operating time: Approx. 2 times in 15-minute mode, approx. 3 times in 10-minute mode.
*Please note that the texture of the hole and continuous use exceeding 15 minutes may interfere with the hole's structure.
We share our best shipping rate from Japan with you. Just add products to your cart and use the Shipping Calculator to see the shipping price.
All shipment has tracking number and insurance.
What Customers are Saying
Best onahole warmer I've ever used. Gets hot nice and fast.
But you may need at least 2 of these fully charged, if you like to enjoy long sessions with a doll or torso or simply multiple shots in night 😈 They take a long while to charge to full. And can only be used twice on one charge. Each use heats up for 10-15 min then turns off on its own. My theory on the reason they take a long time to charge (12+hours) is because of the magnetic connector. But this is also necessary for this warmer to remain waterproof. Anyway buy 1 or 2. Best on the market.
Thanks for dropping some love for our G-Project Onahole warmer! Thrilled to hear it's your top pick for heating things up.
Gotcha on the battery life and charge time. Sounds like you're putting it to some proper use during those legendary marathon sessions (go you! ). The magnetic connector is a double-edged sword - gotta keep things waterproof, but yeah, it can affect the charge time.
Cheers for the feedback and the solid recommendation! Stay toasty and game on.
Aika S.